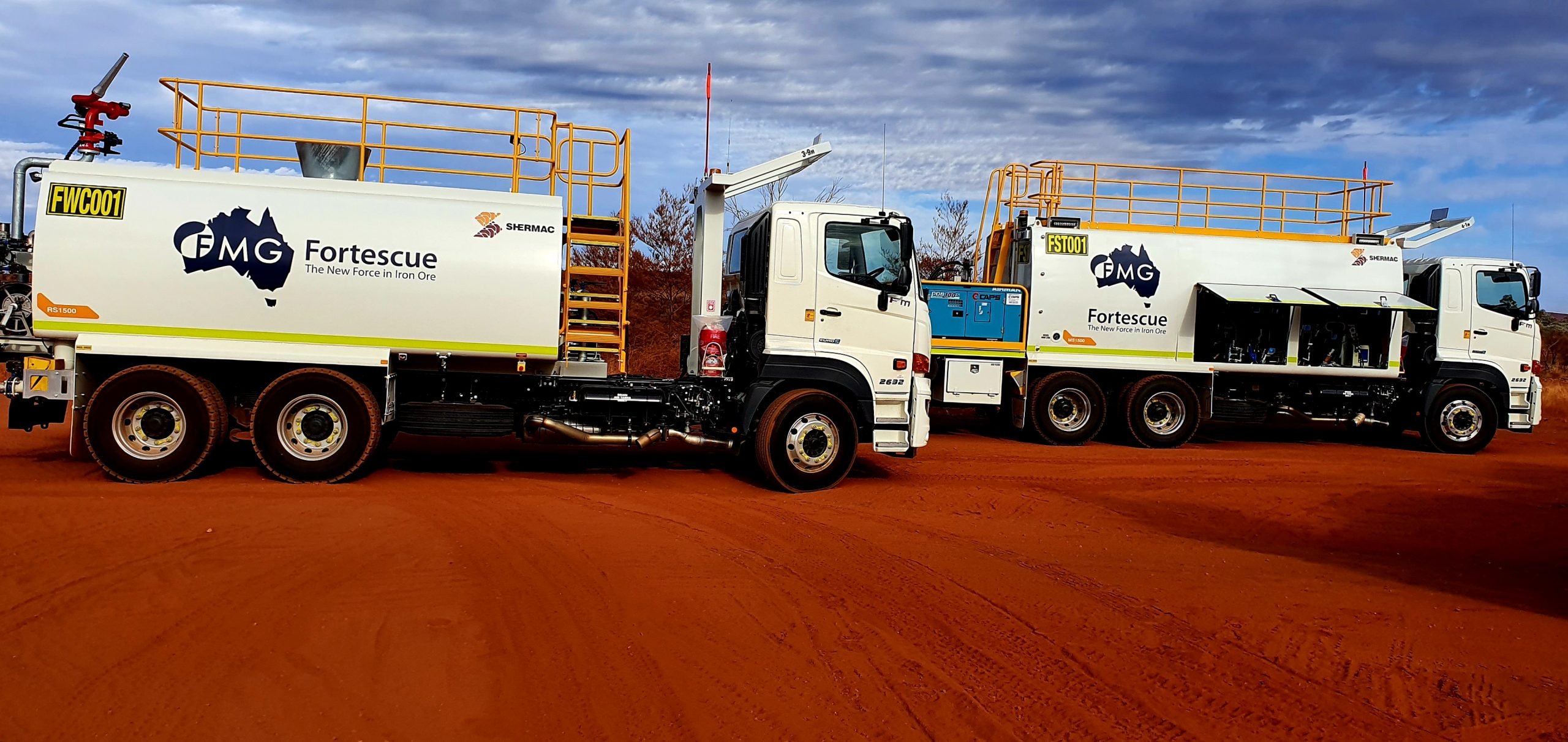 Shermac design and manufacture custom-built water cartage and support vehicles for the mining, civil and commercial sectors. While manufacturing is based in Western Australia, through a national footprint of support offices, we serve customers Australia-wide.
Shermac has designed, engineered and fabricated products for some of the worlds' largest mining and civil engineering contractors, including BHP, Rio Tinto, Fortescue, Thiess, Komatsu and Alcoa. Much of this work has been to address highly specialised requirements demanding one-off engineering solutions to operate in some of the most hostile environments on earth.
In addition to corporates and multinationals, Shermac has successfully completed a large number of projects for smaller and owner-operated businesses.
Shermac believe it is entirely reasonable for a customers to ask "Why should we use Shermac?"
Shermac CEO, Mike Ray says,"We must differentiate ourselves on dimensions that are relevant and meaningful to our clients. Based on our experience, there are three key dimensions that are important to our clients – minimising supply risk, eliminating operation risk and lowest lifetime cost of ownership".
Minimising supply risk
One-stop describes an end-to-end process that takes a service from beginning to end and delivers a complete functional solution. Shermac is a partner that can see a project through from beginning to end, and supply everything needed to create a workable solution.
Shermac's in-house capabilities include design and engineering, procurement, complete fabrication capabilities including assembly, testing, hydraulic engineering, auto electric, paint and commissioning, and extends to transport, delivery, operator training, after-sales support and parts.
From Shermac's perspective, this end-to-end capability is the realisation of a philosophy that helps to optimise the performance and efficiency of the business by eliminating the middle-man and provides a much more predictable cost base with complete control over quality and improved management of project timelines.
From a customer perspective, it means that Shermac has a complete and unbroken line-of-sight from initial concepts through to final delivery and has full accountability for every aspect of the project.
While many contractors may argue they have one-stop capability, this often only applies to fabrication of standard, off-the-shelf products, and any level of customisation will require extensive use of third parties for design, sourcing and fabrication, with the resultant loss of control and breakdown of the accountability trail.
Eliminating operational risk
Shermac was founded on the understanding that the operational needs and operating environments of customers were so diverse that standardised equipment did not offer them sufficient flexibility, and while customers were looking for customised equipment options, these were not available in the equipment manufacturers marketplace.
Customisation ensures Shermac equipment is fit-for-purpose, optimising productivity, utilisation and effectiveness, and minimising operational risk for our customers.
The Shermac team has a deep understanding of operating in remote areas of Australia, so we can relate to the tough conditions that customers deal with on a daily basis, and the company has unprecedented experience in custom-built, fit-for-purpose and lowest cost of ownership service vehicles for mining, civil and commercial environments.
Lowest total cost of ownership
Total cost of ownership (or TCO) includes the purchase price of a particular asset plus all operating, service, maintenance and repair costs over the asset's lifespan, including cost of disposal and residual value on disposal.
For assets with a long service life, the initial up-front cost of a product is often only a small part of TCO and purchasing managers know that while good procurement is achieving the right price, best value for money is the lowest lifetime cost.
While minimising lifetime operating and asset care costs requires best practice by management, the manufacturer can make a significant contribution to TCO through quality design, engineering and product build. There are three critical factors in managing TCO to minimise the incurred cost of operations and maintenance. 
The most crucial factor in minimising TCO is to ensure that operating practices adhere absolutely to operations within the asset's designed operating envelope. This highlights the critical importance of customisation to ensure that each asset is designed to perform a specific range of work and bound by a specific range of inputs and outputs.
A second critical requirement is effective operator care. The operator plays a vital role in controlling total cost of ownership as properly maintained assets require less energy, can consistently maintain rated performance and generate near perfect product quality. Shermac design and engineer equipment to ensure that operator maintenance can be performed quickly and easily including 'self-reporting' products that alert the operator to maintenance needs.
Finally, in conjunction with proper operation, effective asset care has a direct impact on total cost of ownership, including preventative maintenance, scheduled replacements and periodic rebuilds. Again, Shermac's focus on details such as chassis selection, product selection and durability, ease of access and maintenance and availability of spare parts all contribute to effective asset care.
Shermac's end-to-end capability allows us to relentlessly focus on customisation, operator maintenance and asset maintenance ensuring lowest lifetime cost of ownership and maximising value for our customers.