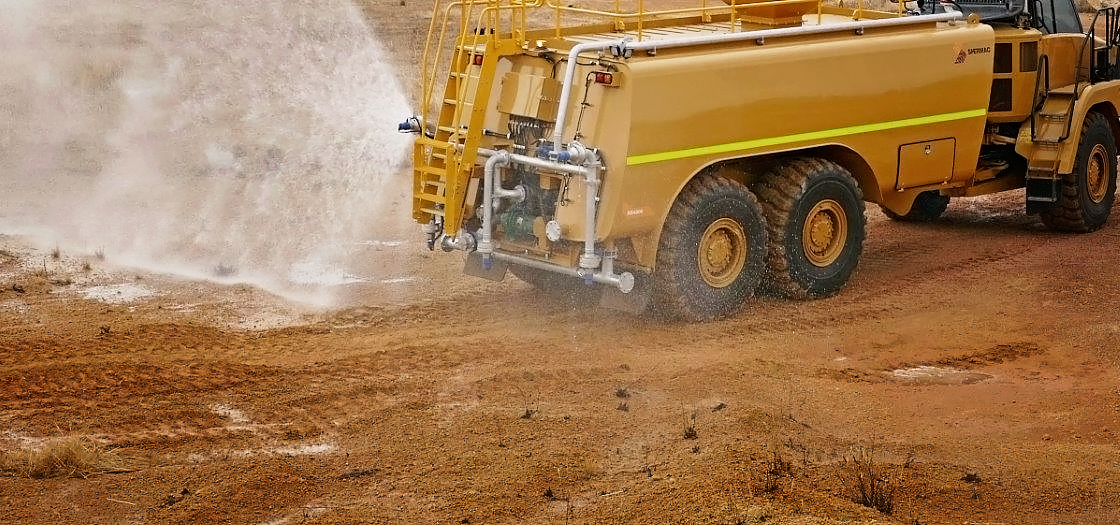 The road network is critical to open pit mining and to keep productivity at an optimum level, every road must be properly maintained and in good condition. 
Mine haul roads are typically dirt roads, and they sustain continuous heavy vehicle traffic. The EPA noted that "Dust generated from haul roads within the mines is the biggest source of fine dust particles on most mine sites, contributing about 40 per cent of total emissions" 
Mine roads are generally watered to suppress dust and mine operators face a continuous struggle when trying to balance dust suppression and overwatering. 
As a result, mine haul roads invariably suffer from one of two conditions – under-watering resulting in a dry and dusty surface or over-watering that washes away the surface layers of the road, degrades road quality and results in changes to the surface friction coefficient that reduces tyre traction, increases skid potential and increases stopping distances. 
Over a 5-year period, the Queensland Department of Natural Resources and Mines reported there were 477 high potential incidents in Queensland and noted that three key factors contribute to truck slides: 
Road material
Road geometry
Road watering
The most common reason for truck slides is over-watering and inappropriate watering of mine roads, and this factor accounted for 49% of incidents. Over-watering is a common term but really only applies to low friction or road wearing course material that is friction sensitive to water. 
The Department advised that a clay surface can lose up to 50% of its coefficient of friction through the application of water, and that weathered overburden clays have half the coefficient of friction of some siltstones and sandstones. 
The Department encouraged operators to conduct road surface frictional coefficient testing to better understand road surfaces and noted that testing the frictional coefficient of road surfaces allows engineers to better understand surface materials, how watering affects the frictional resistance of different road surface materials and allows them to make changes to watering systems and practices. 
In addition, the Department advised operators to regularly check the calibration of water trucks and noted several common issues that were identified from testing the calibration of water trucks:­ 
Identical trucks and watering systems delivering very different application rates of water 
Water rates are not being applied consistently across the travel path (overlapping of sprays, direction of sprays etc) 
Overwatering occurs when water trucks are travelling at slower speeds 
Water being wasted due to spray direction and width
Sprays applying wider than required strips of water meaning a truck can have all wheels in the wet line
Shermac are the recognised experts in the design and manufacture of water carts for the mining industry and was founded on the understanding that the operational needs and operating environments of customers were so diverse that standardised equipment did not offer them sufficient flexibility. 
Ready to find out more? Talk to our expert team to find out more about how custom design and concept-to-delivery engineering and manufacturing capabilities can minimise project risk and ensure lowest total cost of ownership.