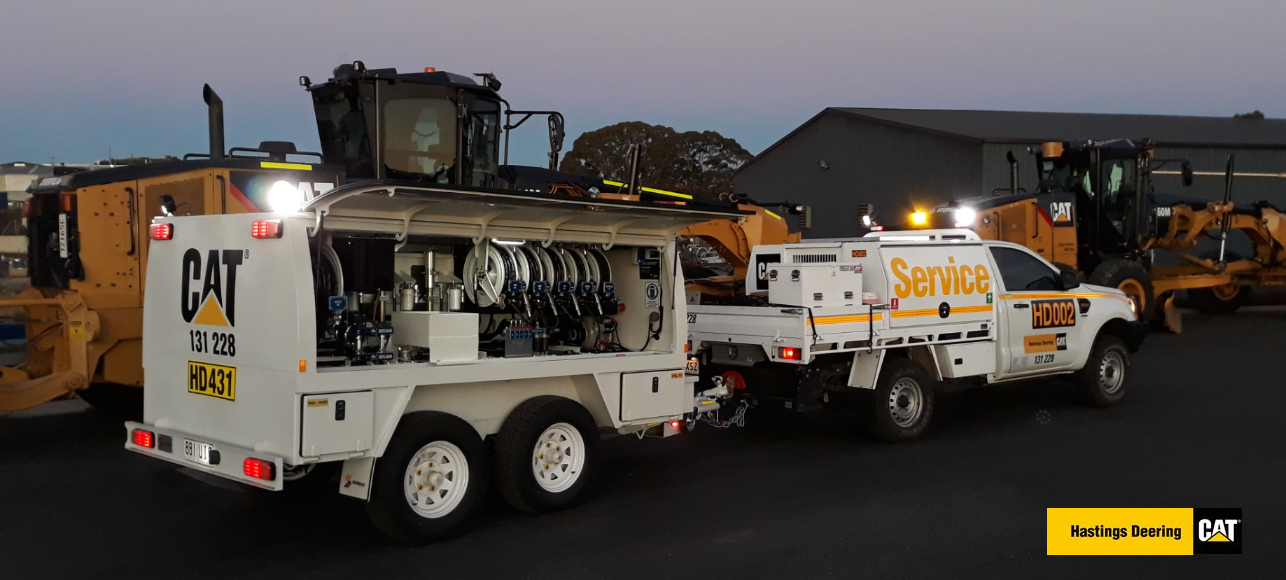 Hastings Deering are delighted with their new custom service trailers from Shermac. The company operates over QLD and the NT, with around 500 field service vehicles and 3,500 staff in operation. With sites such as drilling camps and coal-seam gas stations, often located in harsh and remote terrains, they need service vehicles built to cope. The company found their former maintenance trucks were no longer up for the purpose, being time-consuming to load and unload, unclean in terms of their greater capacity for spillages and expensive to run. They needed a solution, and Shermac came up with the perfect answer – timesaving and user-friendly self-contained service trailers.
When their old service trucks were retired, Field Service Supervisor, Casey Dallas, saw the opportunity to approach Shermac. Hastings Deering has purchased several off-the-shelf Shermac service trucks in the past for various business areas. Knowing this plus Shermac's leading reputation and reliability in the industry, Casey trusted Shermac to deliver a tailored solution to fit the company's business requirement in expanding Toowoomba's service requirements way out to their Roma base and beyond – up to 600kms away. Having done research across several companies, he found Shermac to be not only comparable in price, but the most flexible in terms of the level of customisation they could offer. With 120 employees and 30 field vehicles, Casey approached Shermac to provide 3 new custom service trailers.
Casey was really impressed with Shermac in terms of their proactivity and flexibility to accommodate Hastings Deering's every need: "They were really good at being flexible and were happy to change anything that needed to be changed." This included one trailer customised to hold a high-pressure cleaner and water tank, and another specifically tailored to service power generators.
Shermac definitely delivered on their client's environmental requirements, too. Multiple fully-sealed compartments of varying volume-size for various fuels were added along with dedicated hosereels. This removed any chance of spillage onsite. Environmental safety is a huge consideration for all their sites, and Hastings Deering always work closely with landowners to protect and respect the land they work on.
Along with providing a tough, durable vehicle set up perfectly to carry everything needed for several days' work out in the field, Shermac provided trailers that were much lighter to tow. Thinking through all the safe towing aspects, Shermac put forward and fitted out lighter poly tanks for carrying hydrocarbons – now fitted as standard across the Hastings Deering trailer fleet – and lighter doors, allowing a weight saving of at least 200kg per trailer, giving greater weight capacity for fuels and tools.
Delivered on time, on budget and perfectly matched to their needs – branding included – Hastings Deering are delighted with their Shermac service trailers and the increase in their business productivity through significant time-savings in loading and unloading. Now their teams can be far more efficient, getting jobs done quicker and being able to move onto other jobs sooner.
Call us at Shermac today on 1300 799 943 to discuss how we can tailor the most efficient, safe and highest quality engineered-for-purpose industrial vehicles and equipment for your needs.