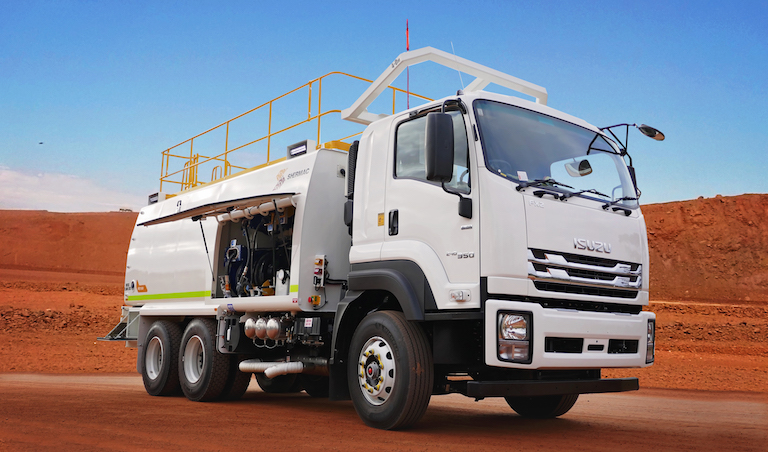 THE PROBLEM
Many mining companies require the service and ancillary support vehicles working on their sites to be customised for particular tasks, conditions or needs. But this can become problematic when the company's need is short term and it doesn't wish to buy the vehicle outright. Or, it may not have the budget for capital expenditure, but has funds from an operational budget available for hiring a vehicle. However, finding one that exactly suits the company's needs but doesn't have to be added to the permanent fleet can be difficult.
THE SOLUTION
The solution to these dilemmas, for many mining companies, is to hire the vehicles they require instead of buying them. But given these are not run-of-the-mill vehicles that can be picked up at just any hire company, assistance from a specialised hire firm is needed.
One such company is Western Plant Hire, based near Perth. With 50 staff and more than 15 years' experience, WPH specialises in renting service vehicles and equipment to mining and civil companies across WA and beyond. As it has grown, so has the demand for vehicles that suit the specific needs of its customers.
Five years ago WPH began sourcing customised vehicles from Australia's leading manufacturer of customised mining vehicles, Shermac, also based in WA. It now regularly uses Shermac's customised service and water trucks to supply its clients with rental vehicles. Currently it has 15 Shermac vehicles in its fleet with more on order.
Executive general manager Luke Mateljan says the company uses Shermac for several reasons including quality, turnaround time, support levels and personal integrity. He says, 'Shermac design vehicles differently. They have a knack for being able to reconfigure a truck so that, for example, where additional fuel tank capacity but less oil might be needed, they can come up with a design that provides this.'
Luke also praises the speed at which Shermac responds to quote requests. 'They make the purchasing process easy with quotes back very quickly. Sometimes we can confirm a price back to our client and secure an order all within a few hours,' he says.
Because Shermac are experienced in the supply of custom vehicles to the mining industry, they know the mine site compliance and design requirements of WPH's customers. The end product we receive is always 100% work ready and within the design limits of the vehicle.
For instance, when a client requested a drill support truck with water, fuel, oil and grease on a 4×4 chassis, care needed to be taken to ensure that the vehicle was not overloaded but still had the required quantities of fluids on board. Standard, readily available 4×4 trucks would have been overloaded when the vehicle was full, however Shermac were able to source a custom Scania truck option with increased capacity to meet the requirements of both the client and the manufacturer.
No matter how high the quality of a vehicle, there is always going to be a need for repair and maintenance support. Again, Shermac excels with what Luke Mateljan describes as, 'back up second to none' with fast response to repair needs. He says when a problem is presented, Shermac is very quick to resolve the issue, focusing on resolution, not blame.
As well, WPH says Shermac will pull out all the stops if a customised vehicle is needed within a shorter timeframe than is usual. All these reasons make Shermac the ideal partner for firms hiring customised service vehicles to heavy industry customers.