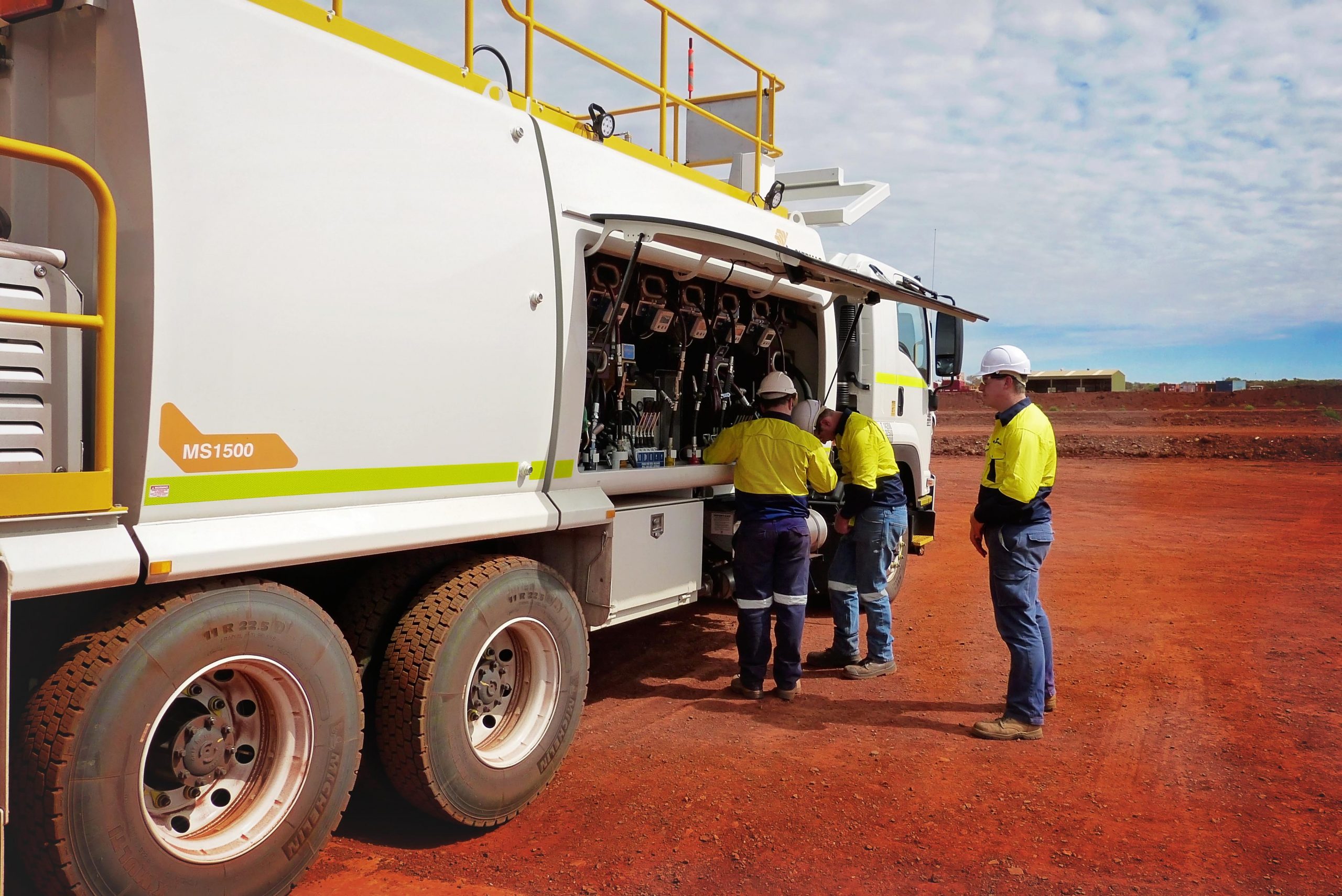 An operator of a service vehicle will visit a number of different locations during the course of a shift and will perform a range of repetitive service tasks. To minimise the risk of repetitive strain injuries, Shermac actively optimises operator ergonomics and safety on all its vehicles.
A good example of Shermac's thinking are the service doors which may be opened and closed by the operator countless times during a shift. The doors have traditionally been made of steel. While gas struts are used to open the doors, being heavy, the amount of effort required to overcome strut resistance and close the doors is high, resulting in the potential for repetitive strain injury. In response, service doors on Shermac vehicles are made from lightweight aluminium and weigh 66% lighter than steel doors. The benefits are obvious – being lighter, the effort required to close the doors is much less and the risk of operator injury is greatly reduced.
Another example involves pumps and filters that are typically positioned behind the hose reel, and operator access is difficult. In response, Shermac changed service vehicle design to position pumps and filters away from hose reels and accessed from the other side of the truck. The result is that operators performing routine maintenance tasks on their vehicles are no longer working in a confined space, improving task efficiency and reducing risk. This design change also enabled Shermac to lower the level of the reel compartment to make hose access easier and more ergonomic.
Shermac engineer safety in and hazards out
Service vehicles typically have a fold-down step to provide safe access for the operator to the deck. Like the service doors, the steps may be frequently lowered and raised during the course of a shift and present a potential hazard to the operator when folding. In response, Shermac re-engineered the vehicle to include a permanent walk-in step configuration that allowed the operator to access the service deck without handling steps.
In addition to ergonomics, Shermac continue to refine safety systems on service vehicles, and every opportunity to optimise operator safety is relentlessly pursued.
Grease is essential for lubricating heavy production machinery, but because of its high viscosity, grease injection systems operate under high pressure. If a grease nipple becomes blocked, the grease line may be pressurised up to 5,000psi and, under pressure, the grease gun is difficult to remove. Similarly, if a grease nipple breaks, grease may be ejected under high pressure. Either scenario is high risk, and to eliminate the risk, Shermac offer an optional remote-controlled grease pressure release system and the operator can immediately relieve pressure in the grease line and eliminate the risk of grease injection injuries.
These examples illustrate Shermac's commitment to engineering safety in and hazards out and to maximise operator wellbeing, vehicle uptime and productivity with predictable lifetime cost.