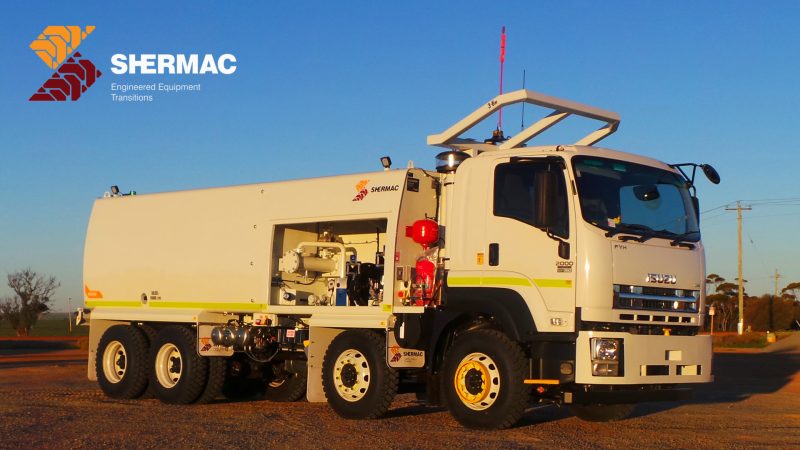 Shermac is a dynamic, Australian-based company that designs and manufactures built-for-purpose solutions that meet the specific operational requirements of our clients. We are able to build and customise any industrial vehicle, wherever you operate in Australia, and whatever your industrial application may be.
While we have already made a name in Australia, the past few months have been quite exciting for us and our clients. We recently completed a project at a mining site in Laos, which proves that Shermac is capable of supplying high-quality products anywhere in the world at competitive price points, and more importantly, on time.
Allow us to tell you the story of how we were able to complete a major project for a company that has a mine site in faraway Laos and how Shermac is becoming a globally competitive company, delivering solutions to just about any location in the world.
THE PROJECT
Shermac was approached by an Australian mining company that needed service trucks for a specific fleet of mining equipment at their mine site, which is located in Laos. We worked closely with the client in fully customising each unit to meet their exact on site servicing requirements. The project required left-hand drive trucks with all primary functions accessible from the driver's side. This represented a challenge since the design and functionality are literally the complete opposite of right-hand drive vehicles used in Australian operations.
DESIGN, ASSEMBLY, TESTING
During the design phase, we worked closely with the client in ensuring that we were able to deliver products that met their exact requirements. We modified the designs until we were able to come up with one that satisfied their needs. The challenges did not stop during the design process with even more challenges cropping up during the manufacturing phase. One such challenge was having to be in constant communication with the site personnel in Laos during the construction of two service truck bodies that were being built in kit form, to ensure that the fit was smooth and accurate.
As soon as the units were fabricated completely, blasted, painted, and fully assembled, we proceeded with testing all the individual functions to ensure that everything works. We tested the hydraulic system, set pressures correctly and tested all dispensing systems to make sure that there were absolutely no leaks and defects. We also made sure that all the units were fully wrapped and protected as they made their long journey to Laos via a sea freight flat rack container, with the components housed in a closed 40-foot container.
PROJECT DELIVERY
In the delivery of the project, we made sure we had eyes and ears in Laos. We sent one of our qualified team members to work closely with site personnel to oversee fitment of service bodies to the truck chassis, as well as to test each unit to ensure that all parts worked perfectly. He stayed on site for three days and once everything had been established to be in perfect working condition, he went home, a week ahead of schedule, if we may add.
You can also watch this video to learn more.