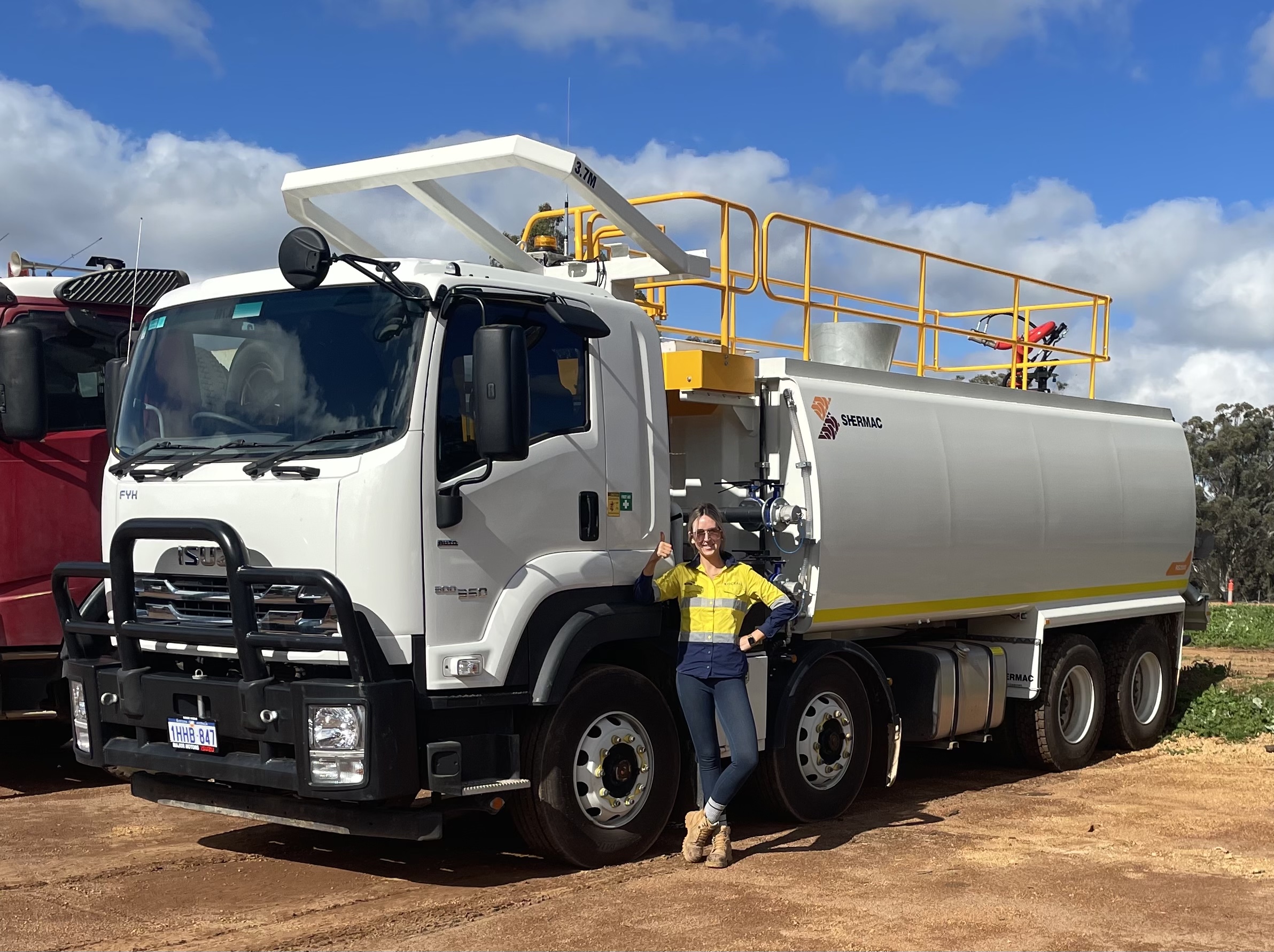 9 years ago, John Gallagher arrived in Western Australia to work alongside his brother, Pete, who was working in Perth. John was looking forward to getting stuck into work but said 'I barely knew how to hold a shovel, never mind operating heavy equipment.' 
John was a quick learner though, and with a lot of hard work and determination, it wasn't long before he was operating heavy machinery. Over the next few years John gained experience on bobcats, diggers, scrapers, loaders, dozers and graders. 
After establishing himself as an operator, John met his partner, Aisling, who was a nurse working in Perth. Being away for long periods was tough, and John was soon thinking about getting a job closer to home in Perth. 
Before throwing it all in, Aisling said she'd like to spend some time working alongside John in the outback. John wasted no time in making arrangements and before they knew it, Aisling had taken 6 months leave and was driving buses and rollers in the Pilbara. 
After 6 months, Aisling returned to her nursing job in Perth but couldn't settle. She had seen possibility to get ahead in life by working up North and felt that perhaps now was the time to invest in themselves. 
In 2019, after years of hard work, John formed Rockall Pty Ltd, a plant and operator hire company and, with Aisling by his side, they purchased their first piece of equipment – a 950H wheeled loader. 
After Rockall's first successful year in business, John felt that a water truck would be a useful acquisition as he saw plenty of opportunities on projects over the years. John had a specific vision however and wanted a multi-purpose watercart designed and equipped for any job on site. When looking for advice from friends on who would custom build a water truck, there was a common theme, 'Talk to Shermac'. 
John met Jim Ray in Perth. John said, 'I liked the Shermac RS2000 on an FYH 350 Isuzu chassis, but I wanted a customised unit that could do all the jobs that I saw other watercarts lacking and more' adding 'when I told Jim my thoughts, he said that it could all be done. It was that simple! Nothing was an issue. He was so welcoming and accommodating, and in two hours, it was fixed, and I was sold' 
'The whole process was fantastic. I liked the people I met in Perth and when I went to their manufacturing plant in Dalwallinu, I realised that everyone in the company is really nice, and they all have the same can-do attitude. It was a great experience.' 
'They really couldn't have built a better unit. It has everything I specified to make it a really versatile piece of equipment – high, low, side and batter sprays, left and right dribble bars, self-fill setup, multi-function cannon, stabiliser setup, fire hose reel and even an enclosed pressure washer unit. Clients look at it and say, "this man has thought of everything!" 
Since delivery, the water cart, with Aisling as operator, has been busy supporting trucks, excavators, loaders, dozers, stabilisers and graders on a road build project. Aisling calls the truck 'my new office' and John says, 'She just loves it!' 
'There's two things I've learned from this whole experience. Firstly, Shermac are the go-to people for water trucks. I can't speak highly enough of them, and it won't be the last piece of equipment I'll be buying from Shermac. The second thing is this; behind every good man is a great woman!' 
Ready to find out more? Talk to our expert team to find out how our custom water truck can maximise productivity and utilisation and minimise business risk.