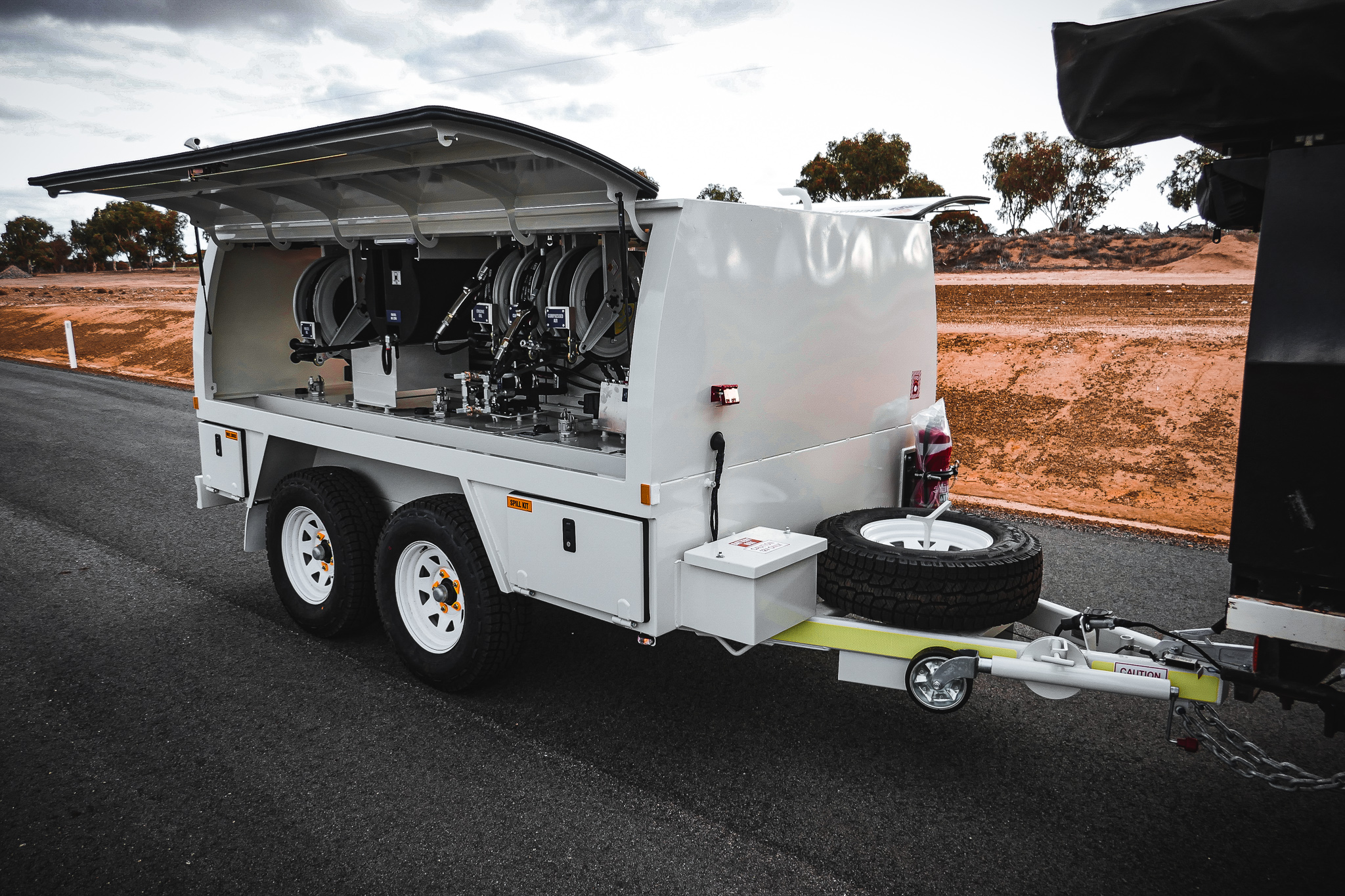 Shermac have been manufacturing service trailers in Australia for over 20 years.
Standard models include the smaller MTS1500 that is typically less than 2,000kgs when full, with an aggregate fluid carrying capacity of approximately 1,000L, and the larger MTS2000 which can be up to 3,500kgs, with a fluid carrying capacity of approximately 1,750L.
Shermac service trailers have been designed to cater to every site situation. With tank capacities able to be configured to suit every application, a range of products from oil, diesel, coolant, and water can be carried.
Incorporating 20 years of customisation and improvement
In 2022, Shermac is proud to release its latest range of service trailers incorporating 20-years of customisation and improvement, with new design features and easier configuration options to create the ultimate on-site service solution for small or large operations.
Perhaps the most significant change is the use of fluid storage tanks made from poly, instead of steel.
Weight savings of up to 600kg per trailer
Poly is extremely durable, and its natural flex minimises the risk of cracking and enables it to be used with confidence in the toughest environments. But most importantly, poly is light and weight savings can be as much as 600kg per trailer.
Increased flexibility for Service Managers
A challenge that many service managers face is keeping their vehicles operating within legal weight limits. Take a typical service ute for example, with a GVM of 3,200kg, a GCM of 6,000kg and a towing capacity of 3,500kg. By the time the ute has a service body fitted and is filled with parts and tools, they are generally right on the GVM limits, meaning the towing capacity is reduced to 2,800kg. Any weight that can be saved in the base trailer can be used for extra tools, parts and fluids.
Other features…
In addition to fluid storage tanks, other features include:
The relocation of the compressor to the trailer drawbar, protected by a secure enclosure. This moves heat and noise generated by the compressor to the outside of the trailer, and makes maintenance, service and refueling much easier.
The spare wheel carrier on the rear of the trailer has been redesigned and includes a wheel lifter to improve safety and ergonomics.
The option of a roof-mounted retractable work light pole to provide all-round illumination.
The overall aesthetics of the trailer have been improved with curved back and front walls and side doors that offer better protection to the operator from sun and rain.
Reduced lead time
In a world of supply chain uncertainty, the increased use of locally manufactured components minimises risk and results in significantly reduced lead time. You can have the best of both worlds with short lead times and still configure your trailer to best suit your requirements.


——-
Ready to find out how you can enjoy short lead times and still configure a trailer to suit your specific needs? If you'd like to learn more about Australia's best and most versatile service trailer, please call our team on 1300 799 943 or email [email protected] with your inquiry.