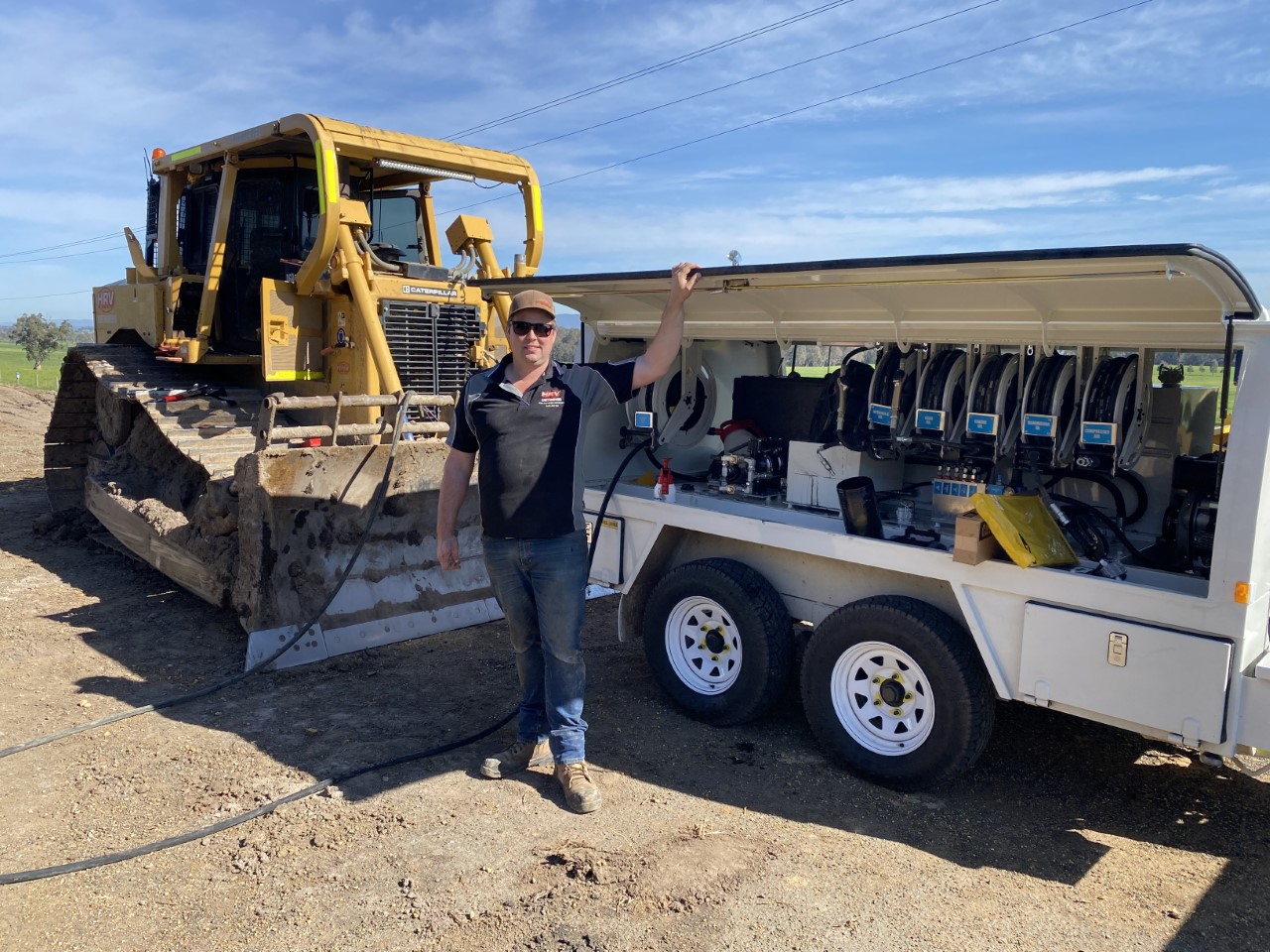 Some years ago, whist working as an equipment operator in Western Australia, Robert Harvey was asked by his boss if he was able to service earthmoving equipment. Robert said 'Sure – no problem' and his boss tossed him the keys to a Shermac service truck. Robert used the Shermac vehicle and thought 'This is the life – if I ever get equipment of my own, I want one of these!'  
Fast forward to 2016 when Robert started HRV Group – a GPS and UTS final trim earthwork specialist business working on civil and construction projects in Victoria. By 2021, HRV Group had grown to nine units and was working on high-profile tier-1 projects such as the M80 Upgrade, Melbourne level crossing removal projects and Melbourne Airport.
While HRV exclusively uses Caterpillar equipment, Rob likes to service his own equipment and said, 'I like to do it myself. It makes sure I stay connected to all my assets and I know that the job has been done properly'. Rob was always very conscious of the risk of oil spills when servicing equipment on site, saying 'When I've got equipment on site, I think of it as being a guest in someone else's house and if I make a mess, I'll never be invited back again. Loading oil drums in the back of the ute was simply too high risk, and I needed a better way'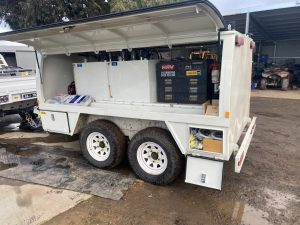 'I contacted Wayne at Shermac and while a service truck was too big for my needs, a service trailer was perfect. I looked at a few options and decided that a 3½ tonne trailer would future proof my business and give me some room to grow into with the possibility of adding extra tanks, pumps, and hose reels'. Robert did look at equipment made by competitors but added, 'The Shermac equipment was more versatile and more eye catching, and I remembered back to my positive experiences with Shermac equipment in WA.' 
Working with Shermac was a really good experience and once the unit went into production, I was continually sent photos of the build and that was really reassuring.'  When the trailer was completed, Robert was going to have it delivered to Victoria but his father volunteered to drive to the Shermac factory in Western Australia and collect it – 'Dad had a really good trip and was extremely impressed by the size and scale of the shermac operation in Dalwallinu and the people he met there. They looked after him really well, explained all the details about the trailer and sent him on his way'. 
Once back in Victoria, the trailer was on site within 24 hours. Robert said, 'I tow it to work, operate equipment all day and service a couple of units on the way home. For me it's been a tremendous success and I estimate that the payback on my investment will be about three years. When I roll onto site with the trailer, people think "this guy knows what he's doing" and it reinforces the fact that we're a really professional operation'. 
'I had a 10 out of 10 experience with Shermac. Their advice and communication were outstanding. All their staff really know what they're doing, and I simply cannot fault them.'