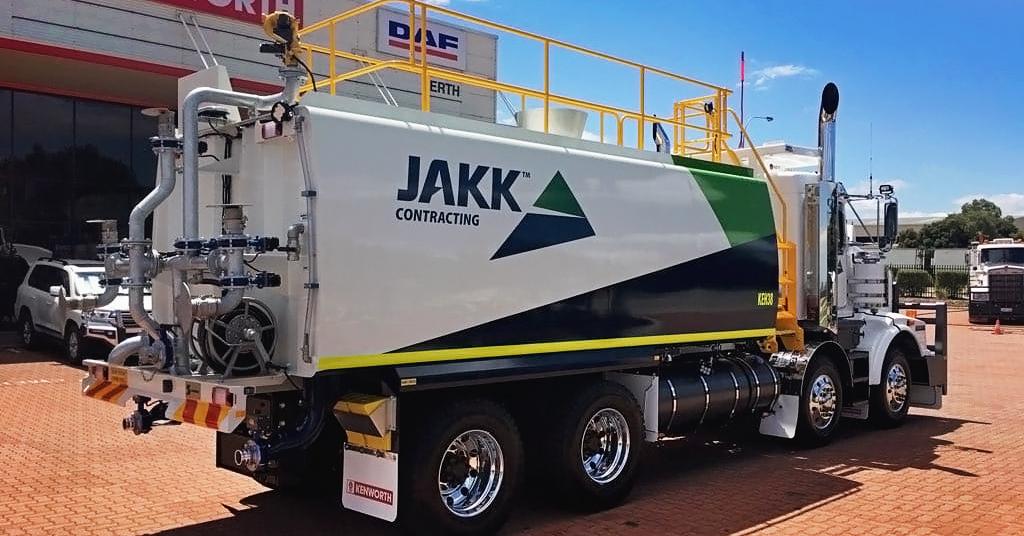 Jasen Kehl started his working life operating farm equipment on potato farms in South Australia as a teenager before moving on to operate earth moving equipment in Victoria and later Western Australia. After several years as a grader operator, he was offered the opportunity to become an owner operator.
In 2009, Jakk Contracting was established by Jasen and his wife Kate. The company specialises in final trim grading with a strong focus on safety, quality and efficiency. While Jasen and Kate have continued to base their family in North West Victoria, Jakk Contracting works predominantly in the Pilbara region of WA and has been a key contributor on many projects in the resource sector including roads, rail, airstrips and other large-scale pavement surfaces.
As a business owner, Jasen looked for opportunities to increase his productivity and quickly realised that having a water cart for final trim grading available on demand was critical. Jasen looked at lots of water carts and saw nothing on the market that met his needs. As a result, he started thinking about the water cart he wanted and how this might be configured and set up.
Realising that this would have to be a custom-build, Jasen started looking for businesses to work with. In 2012, Jasen was introduced to Jim Ray at Shermac. According to Jasen, "Jim was the first fabricator who didn't try and shoe-horn me into a standard design. He only talked about what I wanted and how I could get it. Shermac were very happy to customise a design to meet my requirements and build me the unit that I wanted, so I stopped talking to people who bulk-build standard units".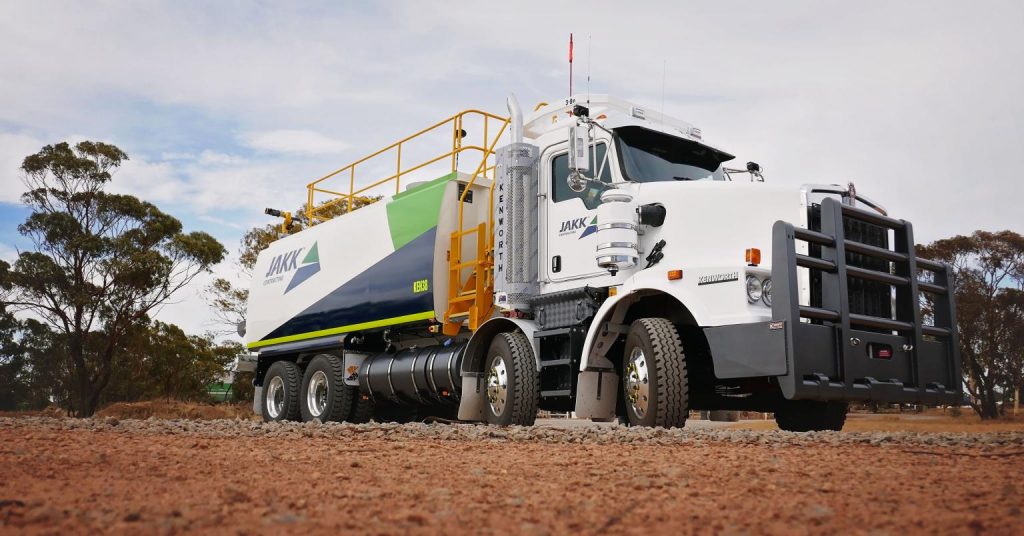 Jasen is a long-time admirer of Kenworth products and wanted Shermac to mount the water tank on a Kenworth chassis. The chassis was heavily modified with customised engine, differentials, transmission and an upgraded hydraulic system to cater for water delivery requirements.
Jasen commented "There was a lot of work behind the scenes – Shermac had to work with Kenworth engineers to ensure the hydraulic system could power the water delivery system that I wanted"
He was delighted with the end-result and said "Owning my own water cart and having a reliable supply of water available as and when I needed it resulted in massive increases in grader productivity for me and my clients"
The focus on productivity propelled the growth of Jakk Contracting and the business now has five graders and two dedicated water carts. While Jasen has since sold his first water cart, he noted "The unit worked 23,000 hours in extremely harsh environments and met every requirement that I had, and when I sold it, it still looked like new"
After his initial experience with Shermac, Jasen has returned for two further water cart builds, including a semi tanker that was delivered in 2020.
Jasen said "Working with Shermac is a pleasure. They have a genuine can-do attitude and believe that anything can be achieved. They took all my ideas on board and complemented them with some clever thinking of their own" and added "there were a lot of issues that they faced with my requirements that probably caused them some challenges, but they just got on with the job quietly and efficiently".