Shermac Service Trucks are built to handle any challenge, they are custom designed and extensively tested to ensure they perform even in the harshest and most remote environments. Where possible, components are sourced from within Australia, minimising wait times if a part were to fail. By offering custom designed, purpose built vehicles, Shermac manufactured Service Trucks are packed full of features that make them more reliable and will allow you to get more production time from your equipment.
FEATURES INCLUDE:
Unique Segmented Tank Design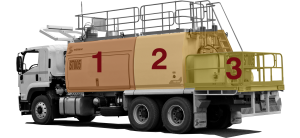 The segmented tank design means that
reel cabinet and oil tanks
diesel tank, and
rear tray
are individually spring mounted to the chassis to minimise stress transfer, greatly increasing body integrity.
Curved Tanks
Every element in every truck design by Shermac has been engineered to perform during heavy-duty use in the harshest conditions. Shermac engineers create fatigue simulations in the design phase, any tank failures are used as an opportunity to further refine and reinforce where necessary, resulting in a more durable finished product.
One such feature that ensures the integrity and durability of Shermac tanks are the curved sides. Curved tanks are stronger than flat tanks, not to mention they also allow for more storage space.
Painted to Withstand Harsh Conditions
All Shermac tanks are blasted and painted internally and externally using a quality two-pack paint system, with optional corrosion protection systems for operation in corrosive site conditions.
Storage
All of our truck designs maximise storage space, with ample room for filters and tools in secure, weatherproof lockers.
Rigorous Testing
All Service Trucks manufactured by Shermac are rigorously tested before being sent to the client. Each part is tested before and after assembly to ensure that no issues arise upon delivery to the client.
Usability, Flexibility, Reliability, and Safety
All products manufactured by Shermac are of a high-quality standard and are packed with safety features, ensuring safe and reliable operation. Through client consultation, Shermac offer an ergonomically designed and manufactured service truck that is easy to use and maintain, making life easier for operators.
Contact Us Today
For more information regarding Service Trucks and how we can manufacture to your specific needs, contact us on 1300 799 943 today, or watch the video below.